Below is a picture of the 700r4 transmission that came with then engine when I bought it. After getting it installed I happened to notice that the entire engine and trans assembly was canted at almost 15 degrees towards the rear of the truck. so with a bunch of handy washer was able to get the assembly almost near level in the truck. Looks like a block style spacer for the trans mount in the very near future I can see.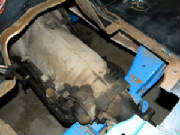 In the picture below you can see I have plenty of clearance on the fireweall and engine so dammed nice to be able to work behind my engine when the need arises... I did so by moving the motor brackets as far forward ads possible and snugging them down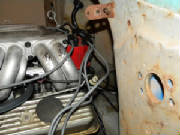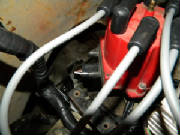 in the pictre below you can see where I routed the tpi harness through the firewall. the hole was one from the factory that was big enough with the exception of the distributor esc harness which I regrafted back together after passin it through the hole :D.