below is a preliminary picture of the adapter block that were are using delrin till we have the final measurements ready to machine the aluminum for this project.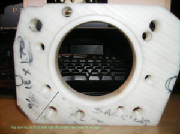 Below is the backing plate from the dodge 1 ton mounted in place with the backing block on the axle and secured with 4 bolts for now.
Below is a picture of the stainless steel locator bushing design to keep the backing plate from moving around. The plastic adapter block has a machined ring on it as well to keep this bugger centered and in proper alignment with the rotor.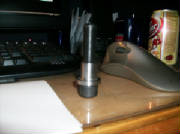 Below is a picture of the spacing I had to do to the caliper bracket to get it centered on the rotor there is about .90 inches between the pads and rotor on both sides at the moment. That will of course be sucked in when the brakes are activated for the first time.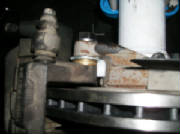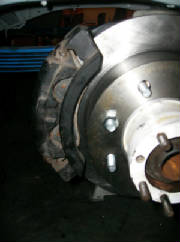 Above is the setup completely bolted into place I found I had to space the rotor out some to get it away from rubbing on the backing plate. So it will go back since I have the depth the block needs to be thinned to accomodate the rotor now :D. Coming along awesome will be back with the machinist on wednesday for more work and start getting him paid. He does some fantastic work. I reccommend getting to be friendly with retired aerospace machinists and engineers!